Professor Ying Hu's laboratory mainly focused on cancer biology specifically in the field of proto-oncogene and tumor suppressor's functions. p53 is the most frequently-mutated gene in human tumors. Over 50% of all tumors and almost every type of tumor contain p53 mutations, whereas wild type p53 tumors are often accompanied with the defects in p53 signaling components. No doubt, revealing p53's functions and its regulatory mechanisms is critical for understanding the molecular mechanisms of oncogenesis. Dr. HU's research interest is to investigate p53 signaling and particularly to dissect the interactions of p53 family members with other upstream regulatory proteins, such as ASPPs. Her group is focused on the translational and posttranslational regulatory mechanisms of ASPPs. Another paradigm of their work is to reveal p53-independent biological functions of ASPPs. The research in the lab is carried out at molecular and cellular levels using both cancer cells models and clinical human cancer tissue samples. The methods and technologies used in her current lab include in vitro cell culture, MTT, Western Blotting, FACS, RT-PCR, molecular cloning, soft agar assay and many other molecular and cellular tools. The goal of laboratory is to develop clinically relevant biomarkers and therapeutic targets for human malignancy diseases.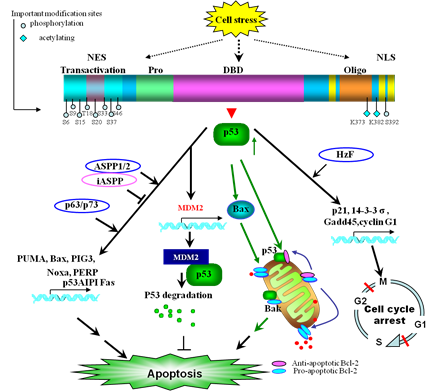 The regulation of p53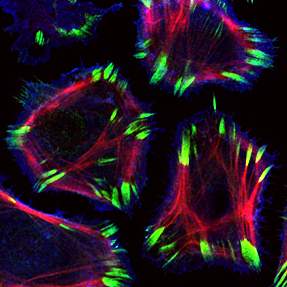 The localization of E-cadherin (blue), vinculin (Green) and F-actin(red) in mouse primary keratinocyte
under the low Ca2+ condition
发表文章
1. Min Lu, Hilde Breyssens,Victoria Salter,Shan Zhong,Ying Hu,Caroline Baer,Indrika Ratnayaka,Alex Sullivan,Nicholas R Brown,Stefan Knapp,Benedikt Kessler,Mark R Middleton,Christian Siebold,Yvonne Jones,Elena V Sviderskaya,Jonathan Cebon,Tom John,Otavia Caballero,Colin R Goding and Xin Lu (2013). Restoring p53 function in human melanoma cells by inhibiting mdm2 and cyclinB1/cdk1 phosphorylated nuclear iASPP. Cancer cell 13;23(5):618-33.
2. Mario Notari†,Ying Hu†,Sofia Koch,Min Lu, Indrika Ratnayaka,Shan Zhong,Caroline Baer,Anna Pagotto,Robert Goldin,Victoria Salter,Eleonora Candi,Gerry Melino,and Xin Lu. iASPP prevents premature cellular senescence and is required for normal epithelial stratification (2011). Proc Natl Acad Sci 108(40): 16645–16650. († joined-first author).
3. Pang E, Ying HU, Chan KY, Lai PB, Squire JA, Macgregor PF, Beheshti B, Albert M, Leung TW, Wong N. Karyotypic imbalances and differential gene expressions in the acquired doxorubicin resistance of hepatocellular carcinoma cells (2005). Lab Invest, 85(5):664-674.
4. Ying HU, Pang E, Lai PB, Squire JA, MacGregor PF, Beheshti B, Albert M, Leung TW, Wong N. Genetic alterations in doxorubicin-resistant hepatocellular carcinoma cells: a combined study of spectral karyotyping, positional expression profiling and candidate genes(2004). Int J Oncol. 25(5):1357-1364.
5. Ying HU, Meilin Liao,Jiaan Ding, Jin Zhou, Kaili XU*. Co-deletion of both P15/P16 genes correlates with poor prognosis for patients with Non-small cell lung cancer (2002). Chinese J Cancer Res. 14(3): 216-219.
科研项目
1 Harbin Institute of Technology talent introduction program funds, 800,000 RMB
2 Joined program with Shenzhen Botai Biomedical Technology Co., Ltd, 100,000 RMB
3 The National Natural Science Foundation of China (NSFC), 250,000 RMB
4 Doctoral Fund of Ministry of Education of China , 40,000 RMB
5 The National Natural Science Foundation of Heilongjiang Province, 60,000 RMB
6. Harbin special fund for scientific and technological innovation, 105,000 RMB
7 Harbin Institute of Technology interdisplinary funds, 150,000 RMB